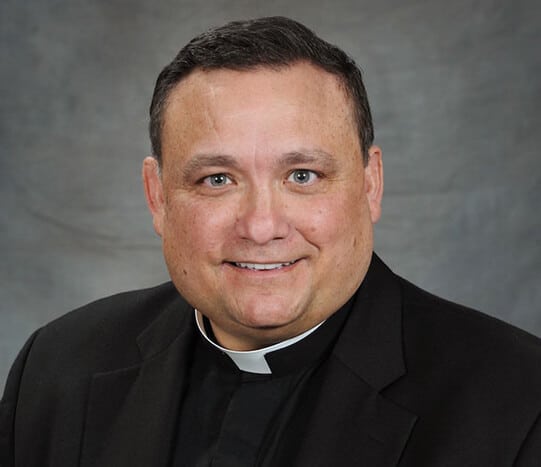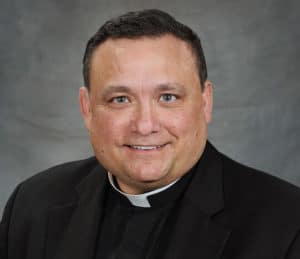 Father Dan Morales
Dan Morales, as a young boy, was into reading superhero comics when a missionary priest from South America visited his 5th grade class.  He was so moved by the fact that this priest who came from a first world country had dedicated his life to living in a third world country serving the poor.  How could someone give up such luxuries?  It made such an impression on the young Dan that he decided if he could not be a superhero maybe he could be a saint, and so started his desire to become a priest.  In his eyes, serving the poor would be a beautiful way to holiness.
Dan entered the seminary in the fall of 1982 as one of the first seminarians for the newly formed Diocese of Victoria. He was ordained to the priesthood on September 8, 1990. Father Dan was beloved in all the parishes he served in his 26 years as a parish priest and pastor. He was a gifted homilist, a compassionate confessor, and through his humor and love of life, he had a real ministry to the youth.  As director of vocations and seminarians, he was instrumental in increasing vocations within the diocese. As a role model, he inspired many young men to follow in his footsteps into the priesthood. His missionary work and ministry to the people of Antigua, Guatemala and the residents of the orphanage of Obras Socialas del Hermano Pedro was a big part of his life.
Father Dan was in his 15th year as an ordained priest when he requested a six-month sabbatical to serve the poor in Guatemala. He was there for only two weeks when he developed a persistent cough.  Further investigation revealed the presence of a 25 pound malignant tumor.  He was diagnosed with stage III sarcoma, cancer of the soft tissue.  He was told early on that there was no cure and it would continue to come back.  Father Dan underwent surgery to remove the tumor. After eight years the cancer returned more aggressively and chemotherapy was initiated.  During his treatment, he was unable to say mass or participate in the daily activities of being a parish priest.  The chemo was too debilitating for so little benefit and so he decided to stop all treatment. His doctor at M.D. Anderson suggested hospice services and Father Dan chose Hospice of South Texas.
Father Dan's journey with Hospice of South Texas in his own words:
            The Hospice of South Texas nurse came to my house to meet with me and answered questions that I didn't even know I had.  Next, they met with my family and the goal was to keep me as active as possible.  And so one of my goals, once I was put on hospice, was to spend as much time as possible with my family.  Dr. Ty Meyer and my nurse, Lisa, work very consistently and very diligently in order to manage my pain so that if I want to go to a movie, I can go to a movie, if I want to go spend days with my family, I can spend days with my family.  Dr. Meyer said one of the goals of hospice is to get in front of the pain so that it is always manageable.  And I know the difference that hospice has made, the medical expertise, the help and the support, answering questions, not only that I had, but that my family had.   Hospice has brought me so much healing and strength and information for my family.    Hospice has been the expertise I needed in order to deal with things, for example, at what point should I worry when I deal with low grade fevers and what do I do with that; those ongoing issues which have never been issues with me before.  Hospice of South Texas has incredible resources out there and available for the sick and the suffering and for those who are caring for them.
            My family support has been invaluable. I cannot imagine facing this without the incredible support of my family.  My faith and my relationship with God and the intimacy I enjoy with God have brought me incredible consolation.  Those times I do get upset and depressed and wonder would it be easier for me, for my family if I just weren't here; it's in those moments that my faith really helps me think things through.  Remember, God is there always. My parents are both cancer survivors and never in those many surgeries, chemo and radiations and everything they have gone through did either of them lose faith or despair.  So in many ways my family has prepared me. 
            God has healed me because in so many ways I have been a broken man.  I feel so good and people tell me I look so good and that is because of all the peoples' prayers. Knowing how much time I have, has been an incredible blessing because I can tell the people that I love how much I love them. I can tell the people that I've hurt how sorry I am that I have hurt them. I can let people know, who have been so generous, exactly what you mean to me and how I keep you right here in my heart. 
In the months prior to his death, Father Dan gave a series of talks honestly addressing his battle with cancer, death and dying, and hospice care. The last talk was for the sick, the suffering, and their caregivers in which he shared the session with Dr. Ty Meyer, one of Hospice of South Texas's full time medical directors. Dr. Meyer talked about the importance of anticipating symptoms and controlling pain so that the patient can live life more fully. There is more than just physical pain, there is emotional (loss of independence, isolation), spiritual (why me?) and social pain (financial stressors). Hospice assesses all aspects of suffering through a team approach because if any of these issues are not controlled, they can add to the physical pain. Hospice of South Texas allowed Father Dan to spend more quality time with his family and being a parish priest which he loved so dearly.  He was not afraid to die. He believed in heaven and had a firm faith in the promises of the Lord, that heaven is a place where there is no suffering, no sickness and no sadness.  Father Dan died on September 3, 2016, teaching us not only how to live, but more importantly, how to die.