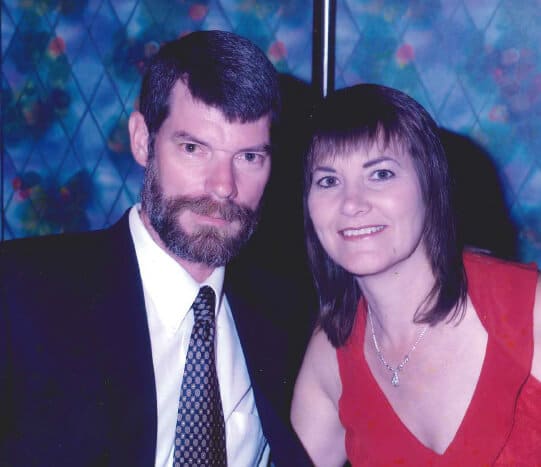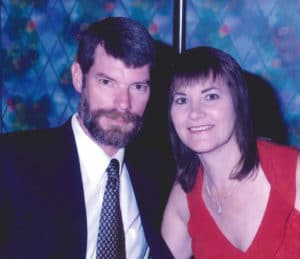 Carolyn Shimek
After giving some thought to how I would share our story briefly, I concluded it was impossible.  I did, however, discover a common thread running through our entire experience that I do care to share.
Carolyn (Henke) Shimek completed her earthly journey on April 12, 2015 after a very difficult, yet beautiful, struggle with ALS (Lou Gehrig's Disease).  There were symptoms in 2003, and after being definitively diagnosed in 2005, grieved the loss of bodily function week by week for years until she was a fully cognitive human being trapped in a body with all voluntary muscles deteriorated.  Brutal, without a doubt, but she not only managed–she conquered!  Just how did she live with this debilitating disease for over ten years and not be bitter or severely depressed?
I have always believed that the advantages of coming from a large family greatly outweigh the disadvantages.  Carolyn was number ten of twelve!  Eight sisters, three brothers, many in-laws, and seemingly countless nieces and nephews all contributed in some way to the resolve Carolyn displayed on a daily basis.  Some helped with the caregiving, and some offered advice.  Others visited, wrote letters, sent cards, kept in touch by e-mail or Facebook.   Some reached into their pockets or helped organize fundraisers.  And then, of course, there were plentiful hugs, kisses, and gentle touches!  The continuous interaction was so very important!
Our children—Tamara (husband Gilbert, grandson Lyric), Nathan, and Brianna—did a wonderful job mastering all of the complexities of caring for their mother and did so graciously and compassionately.  They all were very attuned to keeping their mother involved in anything and everything she possibly could be.  It was difficult watching the progression of the disease, but nonetheless, they were responsible, loving sons and daughters.  And by the way, Carolyn never once stopped being their mother!
My extended family (not as large as Carolyn's, but still plenty large) also contributed in ways similar to those already mentioned.  There was no short supply of heart-felt concern, offerings of help, and attentive listening.
I could write a book about the value and meaning of genuine friendship.  Our dearest friends made so many sacrifices for us.  Carolyn truly treasured her friendships.  Yes, I include myself in her list of intimate friends, but there were times when I wondered—such was the love for her "besties"!
Around-the-clock care could not have been provided without hired caregivers and a host of volunteer caregivers.  Here again I make my point about advantages of large "families."  I will always be indebted to them for their loving care, kindness, and friendship.  Continuous interaction, remember?
I have spent my entire working career at St. Joseph High School, and Carolyn spent most of her working career in schools as well—Stroman High School, St. Joseph High School and Nazareth Academy.  The faculty, staff, administration, students, and parents were a wealth of support.
The value of our faith and our faith community is quite difficult to measure, yet I am so confident the strength needed to "carry the cross" came from God's abundant grace and the prayers of all the faithful that knew of our situation.  God does not expect us to have an unshakable faith—that's probably impossible.  Faith does though make such a difference.  All we are asked to do is trust God through our struggles.  I most appreciate the many times people would ask about Carolyn, and then take the time to listen to me explain.  I needed those moments.  They somehow energized me.
Because we had such an extensive network of helpers, we found ways to make adjustments when Carolyn's condition continued to worsen.  One of our wonderful volunteer caregivers, Gayla Whitaker, who also is employed at Hospice of South Texas, gently encouraged us for many months to consider their services.   Carolyn and I both agreed that it was time.  Initially, I was a bit concerned about letting go of the control, or sharing the control of Carolyn's care.  The concern quickly waned.  The pain-relieving focus of Hospice extends far beyond the patient's pain.  To initiate the service, speaking with Dr. Ty Meyer, the registered nurses, and social worker was akin to having good friends over for a visit.  The nurse assistants were absolutely fabulous.  They made all of us feel so comfortable because they were highly skilled and so compassionate and friendly.  Calls to the office personnel to get a question answered or to a nurse to troubleshoot a medical issue were addressed amazingly quickly.  During Carolyn's last few hours, Dr. Meyer seemed more like a brother to us than a medical professional–so comforting indeed!  After Carolyn's death, the timely phone calls, thoughtful notes, and valuable literature from the bereavement services were very helpful.
The goal of Hospice care is not to add days to your life, but to add life to your days.  It's a community-based response to the needs of terminally ill persons and their families.  I think we can all agree that suffering is an inevitable part of life, especially for the aging and dying.  We may also agree that no one should experience unbearable pain and loneliness.  That's where Hospice, specializing in palliative care, comes to the rescue.  Thank God for the insight this organization has on the gift of suffering!
Yes, Carolyn was strong, tenacious, competitive, and a few "other" things that helped her battle her disease so well, but the common thread that I believe fueled her desire to do her best was the family support and the family-like support from so many others.